Catholic Life and Fundraising
First Holy Communion Breakfast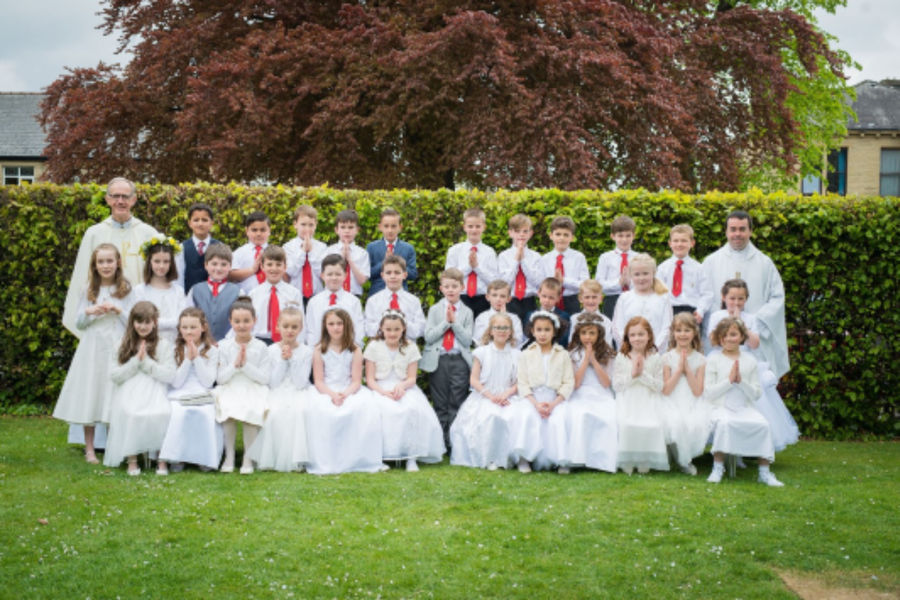 Congratulations to Martha, Tiffanie, Jacob, Alfie, Orlaigh, Aidan, Mark, Joseph, D'Arcy, Sophie, Rebecca, James, Albie, Charles, Oscar, Cianan, Ethan, Oliver, Louie, William, Katie, Jakub, Nieve, Grace, Mollie, Julia, Nathalia, Frieda, Samuel, Enzor & Dawid who made their First Holy Communion on Saturday, 13th May. It was a beautiful celebration enjoyed by all. I would like to add my thanks to everyone who contributed to making it such a wonderful occasion. A big thank you to Mrs Rayner for allowing us to reproduce her photograph and capturing the action on the day.
Fundraising activities during Lent 2017
Once again thechildren in Years 4, 5 & 6 raised money during Lent. The money raised was split between CAFOD and The Good Shepherd.
Year 4 stalls— £164.76
Year 5 stalls— £180.95
Year 6 stalls— £208.56
Thank you to everyone for your very generous donations towards the Bradford Foodbank at our Harvest Festival.
You donated 258Kg of food worth approximately £454, this amount of food will make 31 Single Food Parcels or 12 Family Food parcels and each parcel contains enough food for 3 days.
Bradford Metropolitan Food Bank is a small registered charity, entirely run by volunteers, who receive donations of non-perishable foods from the community and small businesses, to give free of charge to organisations working with vulnerable people in need of food. Bradford Food Bank is non-denominational and is Bradford's original Food Bank, which has been operating since 2004. Please note, we are not connected to the Trussell Trust group of food banks.